`
Sire: GCH Cibola's Absolutely Cool at Adagio (Frio)
CHIC #55059
Hips Good BSD-3609G26M-PI
Elbows Normal BSD-EL1333M26-PI
CERF clear and current BSD-1833
Dam: AOM Ch Spitfire Blazing Savanna, CD, RAE, MX, MXJ, XF, PT, CGC; USDAA-MAD, SAM, AJ, GCH, AS, RCH, TM; BSCA-Versatility Award 2008, FMD, HIC; AHBA-HCT; ATTS-TT (Savvy)
CHIC #50966 - DNA #V426515
Hips Excellent BSD-3477E29F-VPI
Elbows Normal BSD-EL1209F29-VPI
Shoulders Normal BSD-SH3F55-VPI
Patella Normal BSD-PA15/29F/P-VPI
Cardiac Normal BSD-CA54/29F/P-VPI
Thyroid Normal BSD-TH189/55F-VPI
CERF clear and current BSD-1842
Frio is currently showing in conformation, is a Group Winner and has multiple Group placements. He is a beautiful boy with excellent type, structure and health. He has a gorgeous outline, sweet nature and great temperament. He is willing to please and never has an "off" day. He is a Joe Cool and Salterella son, and a Magnum grandson.

Savvy is currently concentrating on agility, getting placements on most runs. She has beautiful structure, type and health, with full dentition and scissors bite. She is a Folklor's Dillon of Hillside granddaughter

and is a linebreeding of Ch Sundown's Ricochet CD ROM.

She is a worker and willing to please. Very sweet with a bulletproof temperament, she loves everyone and everything.

We expect to get beautiful puppies of moderate size, excellent type and structure, very stable temperaments, that will excel in both Conformation and Performance venues.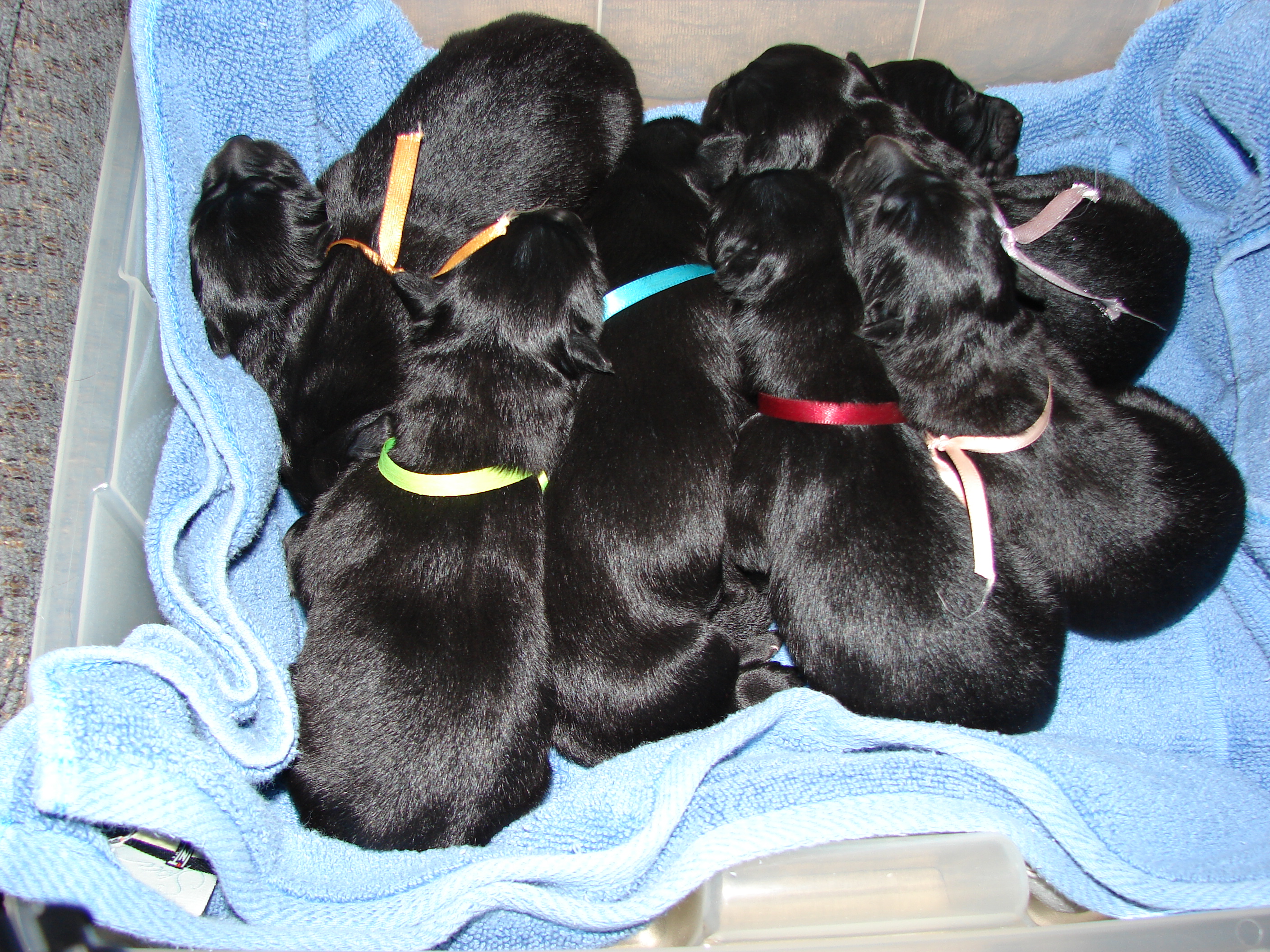 Day 2 - Six boys and two girls


GCH Cibola's Absolutely Cool at Adagio

Ch. Isengard's Joe Cool, RA

Greco de la Grande Lande

Fandy Black de Condivicnum

Evy du Clos du Cher

Ch. Sumerwynd's Dana of Isengard, CDX VCD2, PT, HS, HX Ad. MX MXJ

Am./Can. Ch. Sumerwynd's A Smile For Awhile, CD

Ch. Johnsondale's Windsong

Ch. Sans Brancos Saltarella

Ch. Sans Branco Make My Day Cibola, TT HOF

Khabaret Against All Odds

Uniquest van't Begisch Schoon

Ch. Krysti van't Belgisch Schoon

Lucius du Clos du Cher

Gailly van't Belgisch Schoon

AOM Ch. Spitfire Blazing Savanna, CD, RAE, MX, MXJ, XF, PT, CGC; USDAA-MAD, SAM, AJ, GCH, AS, RCH, TM; BSCA-Versatility Award 2008, FMD, HIC; AHBA-HCT; ATTS-TT

Ch. Spitfire's Piquant of Lagniappe, TT

Am./Can. Ch. Folklor's Dillon of Hillside

Ch. Sundown's Ricochet, CD

Ch. Sundown's Fanfare

Ch. Spitfire's Krystal Pistol,

CD ROM

Harwell's El Bee

Sky Loom Bourre at Spitfire

Ch. Spitfire's Over The Rainbow, CD CGC HIC

Ch. Sundown's Ricochet, CD

Ch. Lascaux Kilt

Ch. Sundown's Sweet Obsession

Ch. Spitfire's Honky Tonk, CD

Ch. Liswyn's Augustus McRae of Geka

Ch. Spitfire Flo of Crystal